In the 1970s, Alex was appointed Consultant Paediatrician and Paediatric Hepatologist at King's, a post which was unique and a timely recognition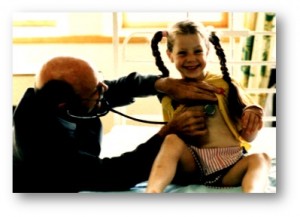 of a new specialty in paediatric health care. Prior to that, there had been no sustained academic interest in paediatric liver disorders and children with these conditions had a very bleak outlook.
He established a first-class clinical unit for children who suffered with these rare conditions at King's College Hospital and led research into the causes and treatment of disorders, previously thought untreatable in children.
Professor Mowat brought together staff from many disciplines across the hospital, forging a team of hepatologists, paediatric transplant surgeons, radiologists, pathologists, nurse specialists, dieticians and other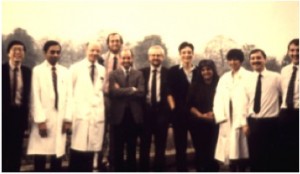 specialists, which had no equal at that time. Together they found new ways to identify and diagnose liver disorders; pioneered new treatments, including the development of liver transplantation in children; and focussed on pushing medical understanding and knowledge of the specialty by disseminating research findings, teaching and education.
Today, King's is a world-leader in children's liver care, treating over 3,000 young patients each year and has the largest paediatric liver transplantation centre in the world, performing more than sixty transplants a year, on children as young as five days old. Many of the world-first medical breakthroughs in paediatric liver care have originated from the leading work undertaken by the King's team.
This lab will help us continue the work he was passionate about throughout his career.
Global Excellence in liver disease research
The King's clinical liver service is a world-renowned for providing specialist liver care for children and adults and runs Europe's largest liver transplant programme. In the 1980s the Institute of Liver Studies was founded to facilitate an ongoing academic programme around liver related research. Located only a few steps from the wards and clinics, the Institute allows the team to conduct clinical studies and engage with patients in a way that benefits both researchers and patients. With a strong focus on translational research, the Institute combines clinical expertise with basic science in order to provide faster diagnosis and personalised treatments.
The Institute has research links with other leading institutions and research networks across Europe and America. These associations ensure that breakthroughs in research can be put into practice quickly, around the world. The Institute also provides training and education to clinicians from across the globe, including North America and Canada, South East Asia, the Far East, the Middle East, and Europe. Clinical teams come to be trained in the best and latest techniques in all aspects of liver disease: surgery, intensive care, and transplantation.
The Variety Children's Hospital at King's
King's College Hospital is home to one of the UK's leading centres for children: the Variety Children's Hospital. With a global reputation for delivering outstanding care, King's provides world-class treatment for children's liver disease, neurology and neurosurgery, respiratory disease, including the management of cystic fibrosis, and oncology and haematology.
In 2009, King's College Hospital NHS Foundation Trust became part of King's Health Partners, one of only six Academic Health Sciences Centres in England designated by the Department of Health. As part of the King's Health Partners, King's aims to bring about faster and more effective improvements in health, ultimately impacting the well-being of children.
King's researchers and clinicians work together to combine the best of basic and translational research, to improve patient care, develop better treatments and increase our understanding of disease. As one of London's largest teaching hospitals, research findings are disseminated and shared with health professionals around the world.
Research undertaken at King's has a positive impact on the health of children not just in London and the UK, but across the globe.
Why was MowatLabs built?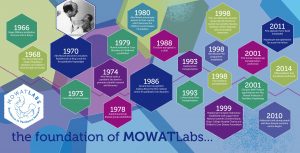 A dedicated, on-site laboratory facility at King's allows researchers from multiple disciplines to work together. 
Despite leading the international field in paediatric liver research, the team at King's had battled with cramped and outdated laboratories, which are scattered across the Institute of Liver Studies and King's College Hospital campus.
Not only did this disrupt researchers' work, wasting precious time traveling around the hospital campus, but it also interferes with other research teams who had to share their facilities and equipment. The little space there was for paediatric researchers within the Institute was desperately over-crowded, hindering the team's opportunity to expand, and there was no room to accommodate visiting professors and the next generation of PhD students.
The First Dedicated Paediatric Research Facility at King's
To address the need for research space, we have built and equipped a state-of-the-art laboratory housed within the current Institute of Liver Studies.
Continuing the work that he started, the Alex Mowat Paediatric Research Laboratories bring together a critical mass of clinicians, researchers, nurses, intensivists, surgeons, transplant specialists, in a collaborative research environment, strengthening the quality and output of research predominantly for children's liver disease, but also for research into children's respiratory medicine, gastroenterology, and sickle cell disease.
The new laboratories provide the best possible working environment to coordinate and advance research into childhood diseases. The proximity of the laboratories to the wards and clinics within the hospital help maximise the rich source of condition-led information and patient material coming from the hospital. With a focus on high quality translational research, the studies undertaken in the new laboratories help develop new diagnostic tests and treatments to help children at King's and across the world.
"King's Health Partners aims to accelerate 'bench to bedside' research; speeding up the time it takes to get innovations in the laboratory out into the local community and providing real benefits for patients".
Summer was diagnosed with liver disease when she was a few months old. At just six months her health had deteriorated and she was added to the liver transplant list. Thanks to the pioneering work of the team at King's in May 2011 she received part of her aunt's liver in a living-related transplant.
'Summer's transplant was the best gift anyone could have given us. She is a different child now. It's given her a new lease of life'. Angela, Summer's mother.